Featured Window Covering Ideas
* available only through free in-home consultation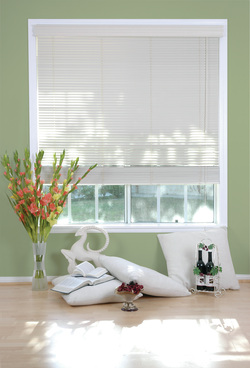 Canyon Wood
1" Wood Horizontal Blinds

Inspired by the etheral beauty of nature, the Canyon Wood brings nature's charm into the interior setting in a whole new way. With a slim 1" vane, the exquisitness of the wood blind is enhanced in a slender and graceful design. Let the sunlight through in the way nature intended it- filtered through exquisite hardwood, creating a picture perfect view as breathtaking as a canyon sunset.

Colors: Paints and rich stains
Material: Premium kiln dried hardwood
Textures: Smooth
System: Wand tilt and cord pull
Specialty Options: Tile cut-out, multi-colored, 2-on-1 headrail, 3-on-1 headrail
Benefits: Standard cornice deluxe valance
1 1/2" heavy duty headrail, Hand selected premium kiln dried hardwood
Easy to clean. Long-lasting. Light filtering/Privacy: Excellent

---
..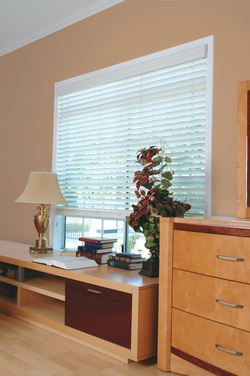 Elegance Wood
2" Wood Horizontal Blinds

The elegant beauty of nature is made functional in the Elegance Wood collection. Each piece is hand selected and dried to allow the warmth and beauty of premium hardwood to shine through. Finished into beautiful 2" vanes presented in a generous collection of polished whites and rich stains, the Elegance Wood offers the finishng touch to window covering design.

Vane Size: 2"
Colors: Paint and rich stains
Material: Premium kiln dried hardwood
Textures: Smooth
System: Wand tilt/cord tilt, cord pull
Specialty Options: Tile cut-out, multi-colored, 2-on-1 headrail, 3-on-1 headrail, routeless.

---
..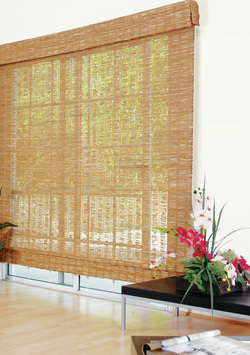 The Natural Invitation
Woven Wood Shades

The Natural Invitation presents a beautiful collection of woven wood shades in an array of intricate designs and exquisite patterns that only the mystery of nature can achieve. Each fiber is carefully hand-selected and delicately woven by hand to fashion a breathtaking masterpiece. Let the Natural Invitation transport the atmosphere of exoticness, modernity, and sophistication into your home.

Colors: Mild natural tones Material: Banboos, natural woods, rattans, reeds, jutes, and grasses.
Textures: Natural fibers
System: Cord pull
Specialty options: Tile cut-out, 2- on-1 , 3- on-1,
Easy lift, Top-Down-Bottom-Up, edging tape, Hobbie Shades (Roman Pleat)

---
..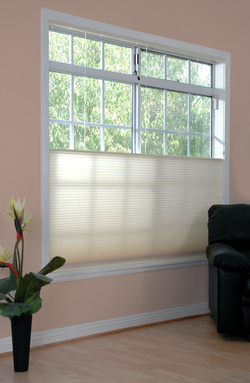 Color Enhancements Honeycomb
Honeycomb Shades

Luscious fabrics folded into delicate pleats not only define a softer side of beauty for the interior decor, but provide an energy efficient solution for the home as well.
The clean creases of the fabric form a cell that aids in trapping in air to insulate the interior. However, despite the fabric's softness, seamlessnes, or colorful palette of radiance, the shade is as durable and efficiant as t is alluring, bringing perfection to any interior design.

Cell Size: 3/8", 1/2", 3/4" Single & Double cells.
Colors: Whites, nuetrals, pastels, and bold
Material: Fabric
Textures: Fabric texture
System: Cord pull
Specialty Options: Tile cut-out, 2-on-1, Duofold,Day & Night, The Easy Going clutch lift, Arch, Quarter arch


---
..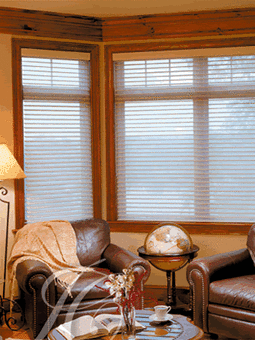 Designer Poly
2" PVC Horizontal Blinds

Design meet practicality, practicality meet design. The Designer Poly collection is fabricated from unique vinyl material that undergoes anti-static treatment to allow easy maintenance and comes available in an array of trendy textures and colors.
The fashionable selection, with functionality, ease of maintenance, and the designer's touch is created for those who appreciate the convenience of a horizontal blind, but desire an extra splash of creative finesse.
Vane Size: 2"
Colors: Whites, neutrals, pastels, and bold.
Material: Curved PVC vinyl.
Textures: Smooth and various patterned textures

---
---
---
---
---
..
---
---